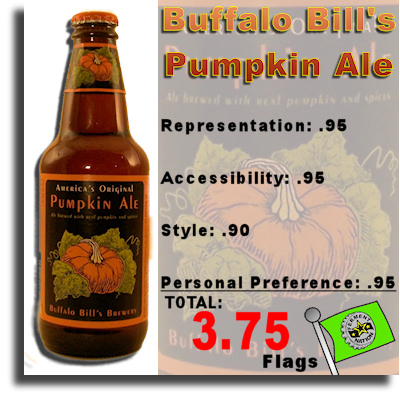 Buffalo Bill's Original Pumpkin Ale:
Gee, that's a really special pumpkin brew. Medium-bodied ale (on the lighter side of medium) with a little pumpkin flavor and a little spicy flavor and a little beer flavor and it tastes exactly like pumpkin ale should taste. Extremely even-tempered and assertively subtle. Ok, no one really knows what that means but I guess what I'm trying to say is: "Gosh, that's just right."
My tastes lean toward a bigger beer with more body, more style, more sexiness. But Buffalo Bill's gives just enough. Really smooth and drinkable despite a tell-tale pumpkin flavor. Not overdone at all. I really think that most pumpkin ales (not all, mind you, but most) are shooting for a certain something. Most brewers miss that mark. Buffalo Bill's Original Pumpkin Ale does not.
Buffalo Bill's
Original Pumpkin Ale
:
Representation: .95
Accessibility: .95
Style: .90
Personal Preference: .95
Total Score: 3.75 Flags
Read
ALL OUR PUMPKIN REVIEWS
(Click HERE to see the results of the Ultimate Pumpkin Showdown!
)