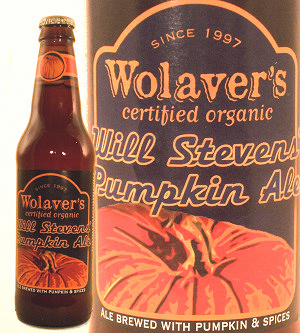 Wolaver's Will Stevens' Certified Organic Pumpkin Ale:
Got a straw? Stick it in a pumpkin and take a pull. This brew is extremely fresh tasting and with certified organic ingredients, it his the mark for authentic pumpkin flavor. Not a ton of body, but actually fairly thirst-quenching as it exhibits some Flemish sour qualities. Not overbearing, but not uber-smooth, either.
Again, I'm a fan of the big beers with rich spicy notes and smooth, creamy bodies. The spices in Will Stevens' Ale are earthy and pungent so style is not an issue. Different from the rest by virtue of its natural demeanor. It's a little light in the body for me, but may be too much on the tongue for others. Overall, a really nice fall treat. Definitely bring this one to a party where you might find nature-lovers and green folks. I'm trying to be more green and organic, so I would always appreciate receiving this beer as a gift or finding it in a fridge somewhere whilst picking pumpkins.
(Click HERE to see the results of the Ultimate Pumpkin Showdown!
)