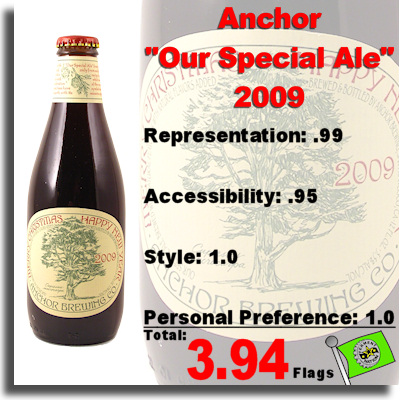 Anchor
Holiday Ale
2009:
Eleven months I wait for this brew to hit the shelves. As soon as the pumpkin ales have all shown their fall finery in liquor stores around town I begin to peek around for the first winter brews.
Anchor Brewing
offers one of the most solid and stalwart lines of brews and the "
Our Special Ale
" stands out among these. Every year the recipe is different (and so is the tree pictured on the label) so it's a holiday surprise every time. Last year's vintage was just ever so slightly less lustrous than previous years in my eyes because it was a little heavy on the evergreen and light on the toasty bitterness...
Problem solved! 2009 Anchor still has a bit of that herbal, forresty, nature-magic lurking deep down in its soul. This latest brew, however, has something else in its aroma -- a semi-sweet cocoa, perhaps, or vanilla, or oak -- something that mellows the bitterness just enough without removing the dry and toasty malt base.
Anchor 2009 has a body and flavor and dryness that is part ale, part porter. It's as dark as pitch with a luminous head (Quite beautiful). Happy Holidays are here again!
Like other holiday brews: Reminds you of the winter season by way of an evergreen presence in the finish and a bit of chocolate or something (drat their secret recipe!) in the aroma.
Unlike other holiday brews: More of a pagan solstice thing than a traditional Christmas mulled-spice thing.
Ancho
r
Holiday Ale
2009:
Representation: .99
Accessibility: .95
Style: 1.0
Personal Preference: 1.0
Total Score: 3.94 Flags