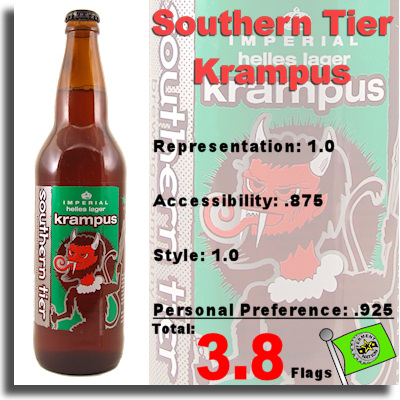 Southern Tier
Krampus
Imperial Helles Lager:
If the legend of Krampus is true, then all the "naughties" will catch a whippin' at the hands of this Christmas critter while the "nices" get presents from Saint Nick. Make no mistake, the
Krampus
is not a being to be trifled with. This Imperial Helles Lager is a bombastic and malt and hops attack on the senses.
While I'm normally partial to ales over lagers, this helles is brimming with character. With four different malts listed as ingredients, the character of
Krampus
is remarkable. Yet malty as it is,
Krampus
maintains a nice hoppy dryness to balance it out. Even though they're both ales and don't have exactly the same flavors, Krampus reminds me a bit of
Green Flash
Le Freak
and
North Coast
Brother Thelonius
in that they are deliciously complex. Beer's basic ingredients can be mixed in an infinite number of ways and can produce something as intriguing as
Krampus
or as dull as ... well, let's just say that
Southern Tier
is guaranteed to keep you on your toes.
The recommended serving vessel is a snifter (I guess a tulip or a thistle would work) and I concur. Let this beer open up a bit and sip it slowly, sticking your face all up in there to get the full aromatic effect. I got the 22 oz. bomber bottle and wouldn't mind sharing it with a friend. At 9% abv, I'm sure that by the time I've finished the bottle by myself I'll be having a conversation with someone, but I should have made better arrangements.
Krampus
is
like
other holiday beers because it warms you up. And how.
It is
unlike
other holiday beers in most ways. No traditional Holiday spices to speak of. That is, until I try
Samichlaus
Helles
. I have a feeling there may be some kinship there.
Southern Tier
Krampus
Imperial Helles Lager:
Representation: 1.0
Accessibility: .875
Style: 1.0
Personal Preference: .925
Total Score: 3.8 Flags

[

Read other Christmas Beer Reviews

]