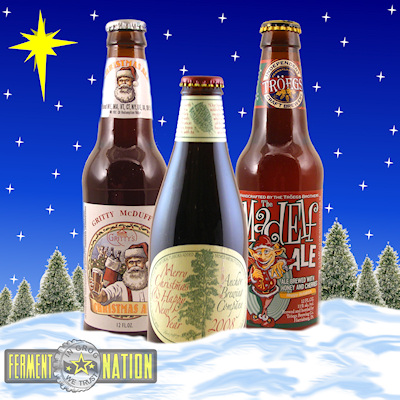 Christmas Beer Round-Up Part 1
:
El Presidente thought it right to begin celebrating the Holiday season as soon as possible. With that in mind, we have three wise choices for celebrating Christmas.
Gritty's
Gritty McDuff's Christmas Ale
: Nothing gritty about this smooth, dark brew. While not heavily spiced with tastes of the season (you know, cloves, cinnamon, dried fruit),
Gritty McDuff's Christmas Ale
would certainly be a prime candidate for sitting down with the
Big Guy
himself and getting into the groove of the season. The flavor is rich yet mellow, with a solid malt foundation. It reminds me of a traditional bock-style beer only with a slightly lighter body.
[
Read the full review
]
Anchor
"Our Special Ale" Merry Christmas & Happy New Year 2008
: Those who are close to El Presidente and are familiar with his tastes know that he, um, I wait eleven months out of the year to get my hands on Anchor's Holiday Ale. I've been sampling this special brew every year (I'm pretty sure I didn't skip any) since 1997. It is flavorful without being too extreme. It imparts a holiday feeling without tasting too much like nutmeg. Medium body with a grand bitterness that rewards the palate for all those patient months of waiting.
[
Read the full review
]
Troegs
Mad Elf Ale
:
Troegs Brewing Company
chooses to celebrate the holidays with a cup of cheer that differs slightly from the normal wintry mix.
Troegs
Mad Elf Ale
is brewed with honey and cherries, going straight for the sweet tooth. But it's still an ale, and Troegs brews some fine beers, so the balance is pretty remarkable. Yes, it's sweet, but the cherries aren't quite candy-- there's a tartness there beneath the sweetness. And honey is sweet, too, but in an earthy, woody kind of way. And with a warming kick at 11% abv,
Troegs
Mad Elf
makes the perfect after dinner drink.
[
Read the full review
]