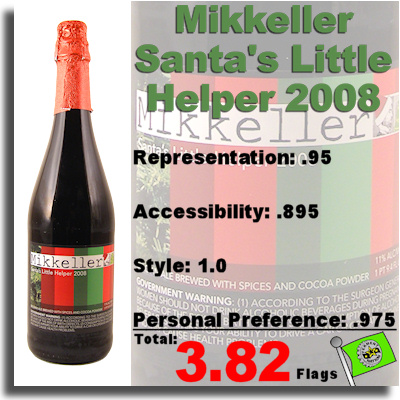 Mikkeller
Santa's Little Helper
2008:
Let's all hope that Santa doesn't get any "help" before he hops aboard his sleigh this year. If he does, there's no telling whose house he might skip. Or worse yet, if he does find his way into your house, what in the bloody blue blazes will end up in your
stocking
?
Mikkeller
's holiday helper is definitely best left for after the hard work of Christmas preparation is over.
This "Belgian ale brewed with spices and cocoa powder" is a cocoa lover's dream. There is a nice bitterness with a slightly syrupy consistency and a boozy bite to warm you up on a cold, cold winter's night. At 11% abv, you'll need to take your time drinking this dessert beer. The bottle I got is 25.4 oz. I should probably share it with an elf or two. We'll see who shows up. Sugarplum fairy, perhaps? Talking snowman? Hey, the night is young.
Santa's Little Helper
08
pours black as a starless night. No mutant reindeer is going to lighten it up any, either. Only share this brew with lovers of bitter stouts, chocolate porters and stouts, or those who dabble in chocolate liqueur. It's possible that coffee-brew lovers will dig it too, but the cocoa is dominant. Here's a little Holiday Quiz for ya!!
Sam Adams Chocolate Bock
is to
David Banner
as
Santa's Little Helper
is to ___ ___________ _____.
Like other holiday beers: Chocolate is a recurring theme in some styles and reminds the drinker of holidays and special occasions. Liquid comfort food!
Unlike other holiday beers: I can't identify the other "typical" holiday spices. And the extra-high abv% doesn't allow for extra-long holiday "sessions".
Mikkeller
Santa's Little Helper
2008:
Representation: .95
Accessibility: .895
Style: 1.0
Personal Preference: .975
Total Score: 3.82 Flags