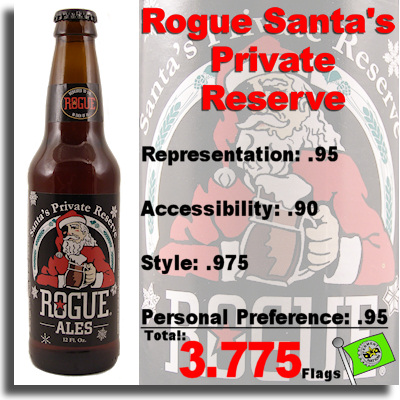 Rogue
Santa's Private Reserve
:
I believe it. Santa may very well have sixpack of this brew in his fridge right now. And why not wind down after a long day of list-checking and elf-wrangling?
Santa's Private Reserve
packs a lot of flavor into a medium bodied brew that's pretty easy to drink.
There is a slighly malty base that is outdone by a nice bitter hoppy finish. After reading the label, I was expecting more of a sprucey hit but for me it doesn't come until the very very end - like the after-aftertaste.
Actually, I'm thinking this brew reminds me a little bit of
Sierra Nevada
Celebration
.
Santa's Private Reserve
has a just a bit less effervescence and overall carries the
Rogue
stamp as opposed to the
Sierra Nevada
stamp. I feel that if you like on you should at least try the other. Taste the difference for yourself and kindly report the results. It's your civic duty!
-
Like
other holiday beers in that it's kind of a "Winter Warmer."
-
Unlike
other holiday beers because its something to drink with Santa rather than remind you of Santa.
Rogue
Santa's Private Reserve
:
Representation: .95
Accessibility: .90
Style: .975
Personal Preference: .95
Total: 3.775 Flags
[
Read other Christmas Beer Reviews
]