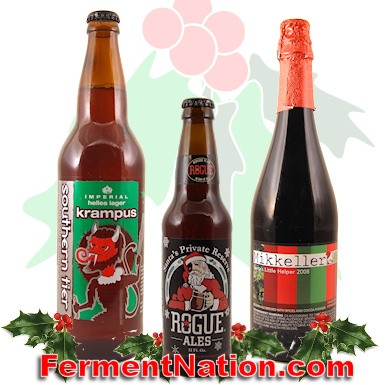 Christmas Beer Round-Up Part 2
:
Christmas is over, but that doesn't mean that people have stopped making merry. New Year's Day is just around the corner, so let the Christmas tunes keep playing on shuffle, keep those halls decked, and check out some more Christmas beers!
Southern Tier
Krampus
Imperial Helles Lager
: If the legend of Krampus is true, then all the "naughties" will catch a whippin' at the hands of this Christmas critter while the "nices" get presents from Saint Nick. Make no mistake, the
Krampus
is not a being to be trifled with. This Imperial Helles Lager is a bombastic and malt and hops attack on the senses. [
Read the whole review
]
Rogue

Santa's Private Reserve
: I believe it. Santa may very well have sixpack of this brew in his fridge right now. And why not wind down after a long day of list-checking and elf-wrangling?
Santa's Private Reserve
packs a lot of flavor into a medium bodied brew that's pretty easy to drink. [
Read the whole review
]
Mikkeller

Santa's Little Helper

2008
: Let's all hope that Santa doesn't get any "help" before he hops aboard his sleigh this year. If he does, there's no telling whose house he might skip. Or worse yet, if he does find his way into your house, what in the bloody blue blazes will end up in your
stocking
?
Mikkeller
's holiday helper is definitely best left for after the hard work of Christmas preparation is over. [
Read the whole review
]