Belhaven
Twisted Thistle
IPA (6.1% abv):
Scottish brews can range from mild to bold;
Twisted Thistle
falls right about dead center. The label self-describes
Twisted Thistle
as "A refreshing example of an India Pale Ale from the master brewers at
Belhaven
." That much is certainly true. The light aroma is pleasantly floral and puts you in a good place as you center yourself to drain a pint or two. Or however many may come.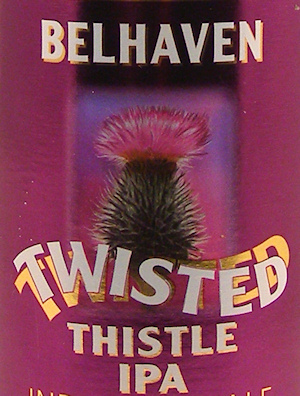 The flavor is mellow and balanced with some citrusy notes, but not quite the sharp grapefruity twang of some of the more pungent IPAs I've tried. Well, maybe a ruby red grapefruit-orange cocktail twang, but not very bitter. Perhaps that's due to the Challenger/Cascade hop blend. A fairly dry, slightly bitter aftertaste lingers at the finish, but overall
Twisted Thistle
is quite drinkable and extremely smooth. There's a slight haze going on when you hold this brew up to the light, and boy does it look creamy. Not disappointed.
Belhaven
Twisted Thistle
IPA is a little on the light side (alcohol-wise) for an IPA, weighing in at 6.1 % abv. Reminder: Very drinkable. Americans tend to like their IPAs a little on the extreme side with regards to bitterness and flavor.
Twisted Thistle
is clearly a British Isles IPA: a little larger body with smoothness reigning supreme, and mellow on the hoppy front.
Twisted Thistle
reminds me a bit of
Samuel Smith's
India Ale
in that respect. Being extreme is not the goal of every beer these days.
Don't hesitate to celebrate your Scottish heritage (or the Scottish heritage of someone you know) with some
Belhaven
Twisted Thistle
. Just be sure to bring enough for everyone, because it could develop into quite a session.
Belhaven
Twisted Thistle
IPA (6.1% abv):
Representation: .95
Accessibility: .99
Style: .85
Personal Preference: .97
Total Score: 3.76 Flags