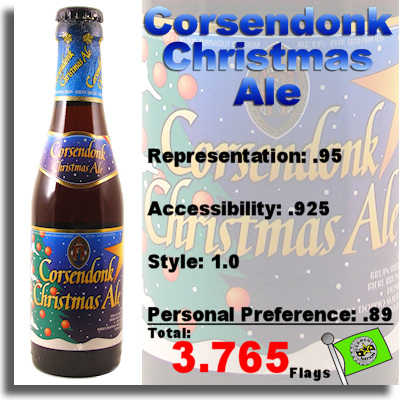 Corsendonk
Christmas Ale
:
This Belgian dark ale comes in a great gift pack (six beers and a glass) for the holiday season. It is very even-tempered as a dark ale and quite tasty. The aroma is just wonderful and complex with hints of dried fruits and some exotic spicing.
The flavor is bold up front, and tangy with just a slight metallic zing to it. It seems that the flavors are then swallowed up by a yeasty base that provides what I think of as "false body". Actually maybe one could think of it as an exaggerated mouthfeel? I'm thinking that
Unibroue
emulates this style of Belgian brew which I find to be hit or miss in terms of really catching my attention.
Corsendonk
Christmas Ale
is very good but it isn't my favorite. I think that some of the flavors get lost in the yeasty base, though it is rich and flavorful and well-crafted. This beer is perfect for kicking off a holiday office party and maybe to accompany some imported crackers and a nutty cheese log.
Overall
Corsendonk
Christmas Ale
is stuck in the middle: a little too rich for session drinking (see
Gritty's, Rogue, Anchor
) but not deep, down-to-the-bone complex enough to grab that "must-try" status, either (see
Jolly Pumpkin, Nogne, Mikkeller
). I give it high style points but not a ton of preference points. Trying for yourself is the only way to know, though. So pour it into a snazzy
Corsendonk
Christmas
glass (and take it easy by the way ... its 8.5% abv) and get ready to send El Presidente a letter or an email or a text message. Your voice counts, so do your civic duty and review some beers. Send pictures, too.
Like
other holiday brews: Tart and fruity with a dessert-like quality.
Unlike
other holiday brews: Holiday brews seem to be either bold or mellow, and this one isn't really either of those.

Corsendonk
Christmas Ale
:
Representation: .95
Accessibility: .925
Style: 1.0
Personal Preference: .89
Total Score: 3.765 Flags