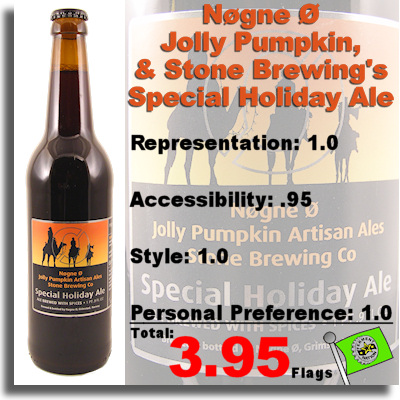 Nøgne Ø
/
Jolly Pumpkin Artisan Ales / Stone Brewing Co
.
Special Holiday Ale
:
Bearing gifts, they traverse afar... I'm not very familiar with
Nøgne Ø
as a brewery but I'm about to become really interested in this brewery from Grimstad, Norway. This 2009 version of the special collaboration between Kjetil Jikiun and the other two wisemen (Ron Jeffries from
Jolly Pumpkin
and Mitch Steele from
Stone
) is worth its weight in rare herbs and glinting riches.
This Special Holiday Ale
pours so dark reddish brown that it is almost black, topped with a generous foamy tan head. The foam contains many tart, fruity flavors and notes of spice but actually covers up some of the aromas. Sip away some of the foam and let it die down a bit to release the full riches of this fragrant beverage.
What a unique twist on the holiday brewing tradition! Brewed with Michigan chestnuts (rich and hearty Americana), white sage from Southern California (for some sass) and Norwegian juniper berries (probably Santa's favorite), this perfectly crafted dark ale contains all the right flavors to complement any holiday meal. Its medium body won't compete with dinner and it has the rich tartness that could accompany a dessert -- even a rich mince pie. Actually, it would go perfectly with mince since its chestnut, juniper, and sage are an alternate wintry mix: fruit, spice, and bitters with a twist.
This brew is not very hoppy. It's fruity but not a fruit beer by any means. Tart but not sour,
Nøgne Ø
is a must-try for anyone who has ever tried a holiday beer... ever. Surprisingly accessible, it can be tried by anyone but will be loved by the select few who have discerning palates. The flavors are rich but not over the top.
Other holiday brews like it? Not that I know of. But if you've had
Jolly Pumpkin
's
Noel de Calabaza
and come away a bit intrigued yet startled by is bold assault on the tastebuds -- give this puppy a try. You'll be blown away but not confused. And if you love
Anchor
's
Holiday Ale
but wish there were just a little more body and festive trappings ...
Nøgne Ø
is right up your alley.
Anchor
may be coming close to porter land but
Nøgne Ø
is an ale beyond measure.
Whether you share the brew at a holiday meal, wrap your hands around it in front of a fire, or share it with shepherds on a silent night -- drink it. Share it if you can, hog it if you must, but go get some this holiday season. If you drink it by yourself keep in mind that it is 8.5% abv, so get a chauffeur for your sleigh or your camel.
By the way, did I mention that this is a collaboration between
Stone, Jolly Pumpkin, and Nøgne Ø
? Why wouldn't you try it? Sheesh!
Jolly Pumpkin Artisan Ales/Stone Brewing Company/Nøgne
Special Holiday Ale
:
Representation: 1.0
Accessibility: .95
Style: 1.0
Personal Preference: 1.0
Total Score: 3.95 Flags