Williams Bros.
Alba
Scots Pine Ale:
The brewers of this delightful ale suggest that the
Alba
Scots Pine Ale be served in a wine goblet...check... at room temperature. Crap. Alright, so it's been refrigerated but it's not ice cold, so I'll enjoy some sips ASAP and take my time to let it warm up a bit.
One word that leaps to my lips in discussing this ale is "mellow". A beautiful light malty aroma greets the senses and evergreen essence is floating on the breeze, but does not dominate the bouquet. Am I imagining the flavors of holey and toasted marshmallows? Probably. But I notice one glaring absence:
hops
.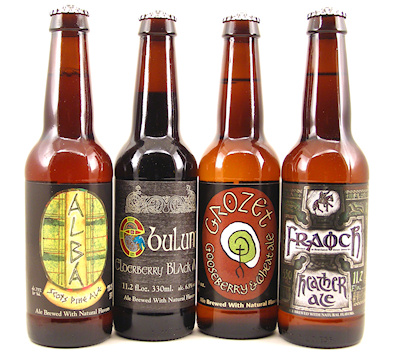 In the times before standardization of the brewing process, hops were not necessarily used in every ale, especially if the brew did not have to be transported to faraway lands but was rather consumed by the local community instead. To be honest, I'd have thought that a Viking-born Northern Scotland Triple Ale would carry a bit more rugged heartiness than
Alba
provides in a flavor profile (like the rugged Skullsplitter Orkney Ale). Instead, the spruce and pine sprigs add a type of floral freshness to the malted barley bree base. This mellow ale has taken me by surprise. And now that my particular glass of
Alba
has warmed up a notch, the evergreen tastes seem to linger a bit more in the aftertaste.
The flavor of
Alba
Scots Pine Ale is unique (good style points), but not so bold as to be inaccessible. This is a very intriguing Historic Ale of Scotland. Enjoy one after dinner with friends as ye're aboot to venture outta doors for the journey home. Or perhaps as a breakfast ale as the mist rolls across ye're campsite on a wilderness adventure.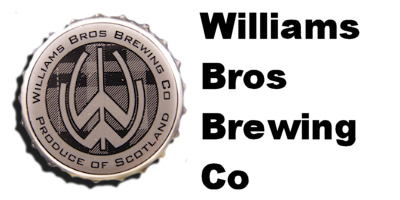 The Williams Bros
. philosophy to "utilise indigenous ingredients to produce authentic ales" has set a breeze flowing up under my kilt and stirred up some of my Scottish heritage.
Alba
Scots Pine Ale is a pleasant choice to raise up a toast in honor of Robert Burns, the eternal poet laureate of Scotland. Fitting that the Ferment Nation should kick off the New Year with these Scottish ales as strains of the slightly modernized version of Burns's "Auld Lang Syne" can still be heard floating through taverns across the world. Slainte.
Williams Bros.
Alba
Scots Pine Ale:
Representation: .95
Accessibility: .90
Style: .975
Personal Preference: .90
Total Score: 3.75 Flags