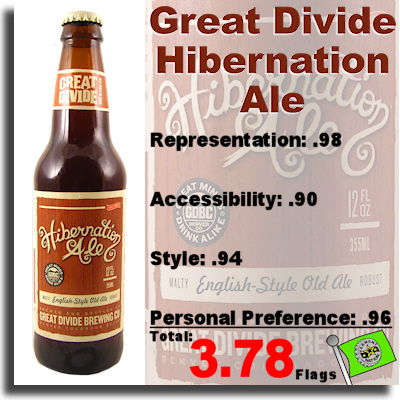 Great Divide
Hibernation Ale
:
This "English-Style Old Ale" is another interesting take on the "winter warmer." The flavor is rich and woody and malty. The aroma contains a hint of caramel sweetness but the taste isn't really sweet at all. Rather, there's a very roasted, almost well-done smoky flavor. Not over the top like a rauch porter would be, but a chestnuts-roasting-over-an-open-fire earthy heartiness. The malt works in a pretty nice harmony with the dry, hoppy bitterness that takes over at the end.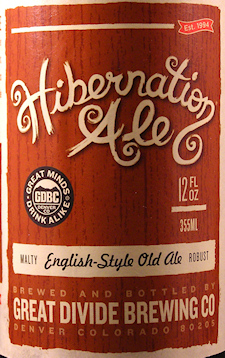 While the body is medium to large, and
Hibernation
is fairly rich in flavor, it could easily work its way into a "session" of imbibing that simply carries over from a hearty meal. The folks at
Great Divide
recommend some food pairings: Aged Dutch cow's milk cheese, roasted chicken, and grilled veggies. I'll go a step further and recommend a chicken pot pie. I think that the rich yet not spicy malt and hops blend would go well with a flaky pie crust and some down-home gravy filling. Actually, if you skip dinner,
Hibernation
could substitute for a meal with little trouble. Then I suppose you'd get the munchies and hit up the pot pie anyway. Ah, who cares? It's all goin' to the same place. Just remember to keep track. 8.1% abv is enough to put you into a sluggish "sleep the winter away" state if you're not careful.
So maybe hunkering down in a cave or a snowy lodge is just right for a
Hibernation
ale such as this one.
Great Divide
seems to produce rich and flavorful brews that always satisfy. I've also had the
Titan IPA, Hercules Double IPA, and Yeti Imperial Stout
, and they're all very solid offerings.
Like
other winter brews: Classic "winter warmer".
Unlike
other winter brews: Well, it's like the warmers but not like the Christmas stuff. No spices.
Great Divide
Hibernation Ale
:
Representation: .98
Accessibility: .90
Style: .94
Personal Preference: .96
Total Score: 3.78 Flags