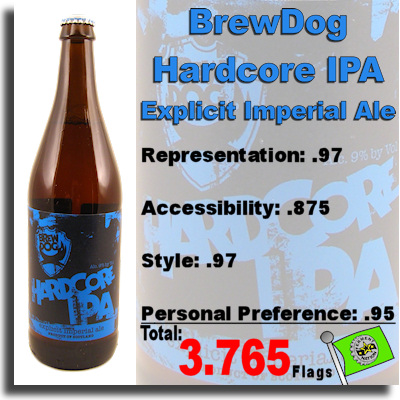 BrewDog
Hardcore IPA
(9% abv):
Hop-Heads, feel free to howl with delight when you get a whiff of this "explicit imperial ale". Very floral aroma with grapefruit notes -- and those grapefruity flavors stay with you all the way through the finish. If you're a fan of
Victory
Hop Wallop
or
Green Flash
West Coast IPA
, then pin your ears back and crack open this
Hardcore
India Pale Ale.
While the hops are clearly the featured flavor of
Hardcore
, the malt is an intriguing character in this drama as well. As
BrewDog
puts it:
"2204 malted Maris Otter grains gave
all they had to offer the world to provide
the robustly delicate toffee malt canvas for the ensuing epic."
The maltier IPAs sometimes play hide-and-seek with the hops, appearing and disappearing at various stages of the draught, but

Hardcore

weaves a steadier (if milder) thread of malty richness throughout your sipping experience
.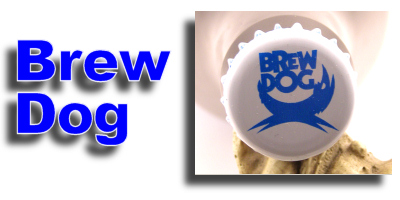 BrewDog
Hardcore IPA
has a light to medium body and isn't very carbonated. The flavors remain crisp, however, since the hops are so jammin'. This beer would be an ideal candidate for enjoying a few pints on tap and then bringing some home in a growler. Even if the top doesn't POP loud enough to scare your pets snoozing in the other room, the sharp bite of hops and generous but not outrageous alcohol content should probably keep
Hardcore
fresh as a daisy. P.S. The 9% abv isn't so noticeable; the alcohol is pretty well masked. But accessibility suffers a bit because of the intensity of the hops. Which is precisely why I've enjoyed it so much. Shout out to Jordan at the Pour House, by the way, for the recommendation.
As the Ferment Nation celebrates Robert Burns week, El Presidente urges all of the FN citizens to expand your musical horizons and check out some pipe and drum music. Actually, one of the Presidential faves is a Scottish folk group called
Silly Wizard
. They have great musical chemistry and a fantastic sense of humor. Check 'em out!
Oh yeah, the beer.
BrewDog
Hardcore IPA
(9% abv):
Representation: .97
Accessibility: .875
Style: .97
Personal Preference: .95
Total Score: 3.765 Flags