What:
Kasteel Rouge 8% abv
Where:
PJ's Pour House (Westmont, NJ)

When:
November 7, 2009
What-have-you:
"Oh please forgive me, terribly sorry... You wanted CHERRY pie!" --El Presidente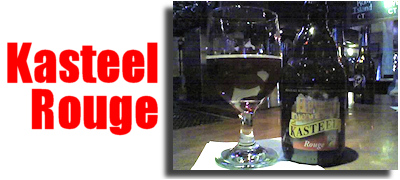 Special Commentary from the Vice President:
"If El Presidente's words seem quizzical, let me try to explain. Have you ever seen the Bugs Bunny cartoon where Bugs asks a bulldog with a sweater for a nickel to purchase a pie only to slam it into his face? No. Well, check it out. Anyway, I suspect, El Presidente is trying to evoke said cartoon, thus expressing the in-your-face flavor."

From Kasteelbier's website
:
"Castle Red is the fruit beer of the Castle range. Its unique dark red colour is obtained by mixing Castle brown that has been left to mature for at least 6 months with sour cherries. This beer has gastronomic qualities and can be drunk as an aperitif, with a BBQ, to accompany a dessert or simply as an outstanding real ale" (http://www.vanhonsebrouck.be/)