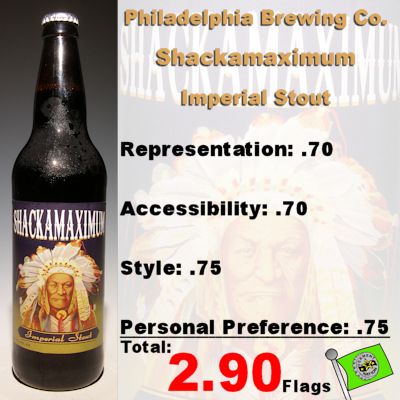 Philadelphia Brewing Co.
Shackamaximum Imperial Stout
:
Still in the bottle, this beer definitely has "stoutish" aroma drifting up into my nose. Not much in the carbonation / head department as I pour the beer into my mini pint glass. The caramel suds quickly vanish around the edge of the glass. After the first sip or two, I am already feeling the warming effects of this beer. Since
Philadelphia Brewing Company
failed to print the % abv on the bottle (this bugs me), I am left wondering if the taste caught in the back of my throat and on the tip of my tongue as I lick my lips is from the beer's boozy presence of alcohol (what is the abv? I do not know) or perhaps the beer having been aged in French oak. Perhaps the line on the label "We hope you enjoy
sipping
on this
full bodied
stout" (emphasis added) answers my question. It's the alcohol.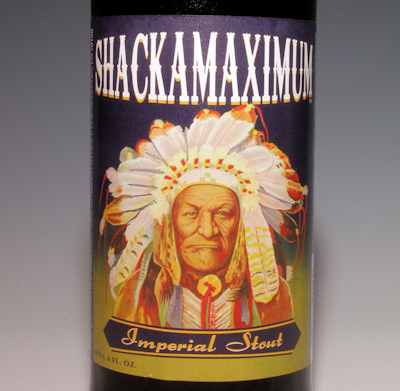 Since I am having a minor issue with the booze flavor of this beer (feel free to write in and disagree), this beer is going to score low in accessibility points as well as representation. There are plenty of other imperial stouts to choose from on the market, for both the casual drinker as well as the connoisseur. Style and Personal Preference won't be much higher. I have had enough stouts and imperial stouts to pretty quickly recognize a favorite, and this is not one of them.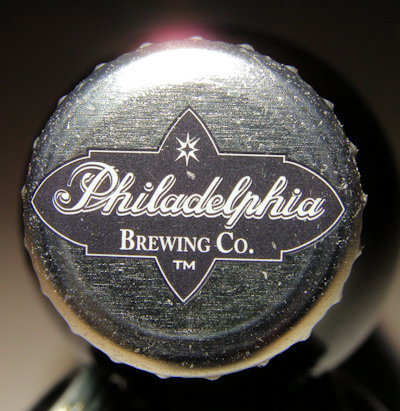 I give the second half of the beer a more rigorous pour into the glass, and the head dissipates rather quickly with no quality lacing left on the glass.
PBC
attempts to impart some historical knowledge on the beer label, writing, "In 1682 William Penn signed a treaty with the Native American leaders of the Shackamaxon village, which later became the district of Kensington, where our brewery is located today." However, this beer, like many of the treaties with the Native American peoples, seems to leave me feeling a bit cheated. I just hope they didn't lace the bottles with smallpox. Overall, this beer is okay, but not great.
Philadelphia Brewing Co.
Shackamaximum Imperial Stout
:
Representation: .70
Accessibility: .70
Style: .75
Personal Preference: .75
Total: 2.9 Flags