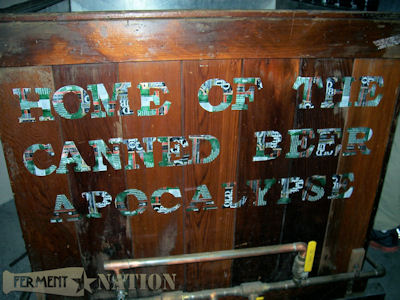 The Apocalypse is upon us! The Canned Beer Apocalypse descended upon the world of mortals in November, 2002 when
Oskar Blues Brewery
first began canning
Dale's Pale Ale
. But these are not the End Times... Oh no, it's just the beginning!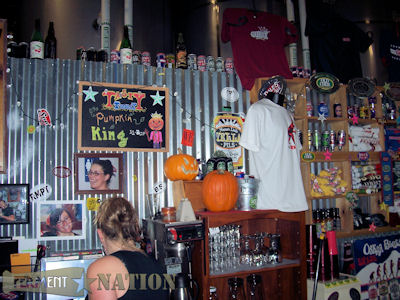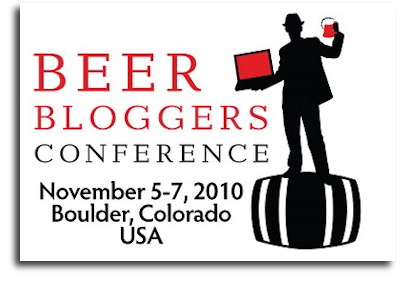 Many thanks to Allan Wright of Zephyr Adventures, who captained the first ever
Beer Bloggers Conference
in Boulder, Colorado. Allan enlisted
Oskar Blues
as a partner and together they hosted a dinner/tasting/brewery tour party for the participants. The food was home-cooked and perfect fare for tasting some incredible beers. I got to experience some smoked wings, gooey mac-n-cheese, and a sausage hush-puppy kind of meatball that we city folk don't get to sample too frequently.
Old Chub Scotch Ale
topped off the meal. It's rich and smooth, yet not overpowering, and a hint of smokiness complemented the Southern twist on the meal.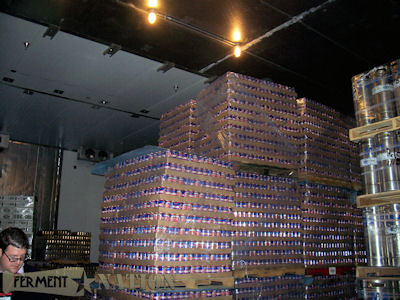 Chad Melis of
Oskar Blues
guided a group of curious bloggers on a tour of the brewery. We got to see the canning line, the brewing kettles, the cooler, and a particularly happy vat of
Dale's Pale Ale
. The cooler was an interesting sight to see, since Chad gave us some perspective on the size of Oskar Blues' operation: The cooler that OB uses now to store its beer awaiting shipment is the size of the entire
brewery
when Oskar Blues began. The growth of the craft brew industry in general has enabled the brewery's growth. More specifically, the quality of Oskar Blues' product as evidenced by the success of
Dale's Pale Ale
, has fostered a demand for great beer in a really convenient package. The benefits of putting beer in a can are many (including the lockout of light and air, ease of recycling, reduction of shipping-related fuel costs...) and so the canning of craft beers is much more widely accepted nowadays, mostly thanks to the prophets who heralded this Apocalypse way back when.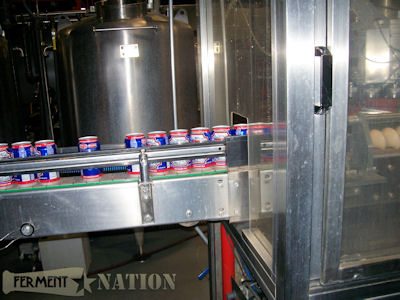 The Tasty Weasel is the OB tasting room where I got to sample the Old Double Bagger (ODB for short) Barleywine, barrel-aged Ten-Fidy, and a firkin of fresh-hopped Dale's. ODB was a gorgeous barleywine, and big as all get-out, with a tremendous body and slightly citrusy tang. The Ten-Fidy was smooth, boozy, smoky, oaky, and fabulous. The Dale's was simply the ultimate session beer, smooth and malty like Dale's normally is, but with an interesting twist... creamy and a little brighter than normal, with the fresh hops peeking through the mellow maltiness. Pub-style flavor that couldn't possibly get any fresher.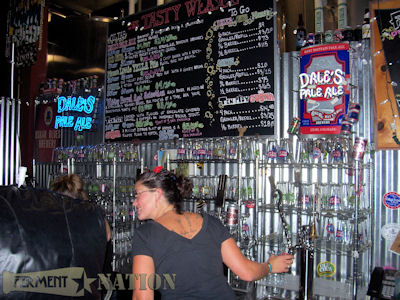 The passion for beer is evident in the perennial offerings as well as the experimental freestylings of Oskar Blues. And the hospitality was greatly appreciated as well. Thanks, Oskar Blues, for a memorable evening! Cheers!
By the way, check out FermentNation's
Oskar Blues
Roundup
, where you can see El Presidente's reviews of
Dale's
,
Gubna
,
Old Chub
, and
Gordon
. Email us your pics and reviews as well!