Recently, the executive offices of
The Ferment Nation
were evacuated for an emergency bar review drill. This is a standard procedure for us as we always want to be prepared for that 3am call when it comes. Not a phone call, the last call. Preparedness is next to Godliness as far as
The Ferment Nation
is concerned.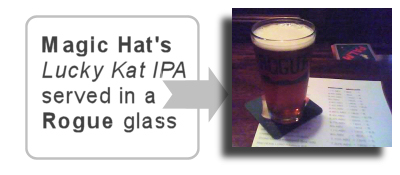 So, El Presidente and the VP convened their emergency meeting of preparedness at a South Jersey gem of a bar,
The Blue Monkey Tavern
at the Collins House in historic Merchantville, NJ. With an impressive
beer list
, and hearty appetizers, it was a very productive meeting.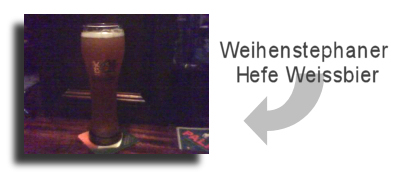 If memory serves me correctly, El Presidente started off with a
Pranqster
Belgian and the VP began the night with
Magic Hat's
Lucky Kat IPA
. These were followed by a Stone Oaked Arrogant Bastard for the Pres, a Weihenstefaner Hefe Weissbier for the VP. These tasty beers were used to wash down some eats provided by the Blue Monkey. When it comes to nachos, the VP is very picky. The Blue Monkey gets a A for effort by providing salsa, guacamole, and sour cream, but the refried beans made the center of the nachos quite a mush, not the best. However, the VP rated the chicken quesadillas highly: hearty and tasty, reasonably priced for the sheer weight of the dish.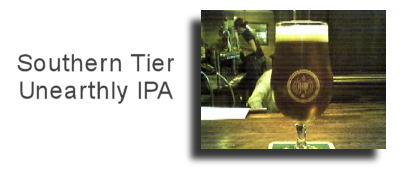 Before the night was over, El Presidente could not resist a
Southern Tier
Unearthly IPA
. Were international beer peace accords discussed? Not to my knowledge. Was a working budget established for 2010? Definitely not. Has a return trip the
Blue Monkey
been scheduled? It is only a matter of time.
--From the office of the VP