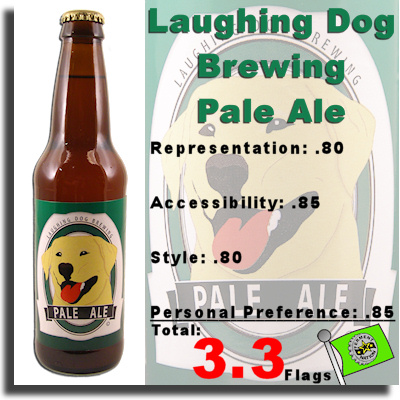 Laughing Dog
Pale Ale
:
I suppose the difference between a pale ale and an American Pale Ale is the spicier, zippier, in-your-facier hops melting pot nature of the APA. APA's don't shoot for subtlety but rather for memorability. Perhaps, though, a pale ale is but remembered for being chilled out and uber drinkable.
Laughing Dog
Pale Ale
seems to just miss the mark here: A little lighter on everything may yield a really nice pale ale.
I feel that the two
Laughing Dog
beers I've tried have been well crafted but not exactly to my liking. I don't mean that I disliked them, but they haven't blown me away. I've heard good things about the
Huckleberry Cream Ale
, so I'm willing to give that a shot. Also, look for an
Alpha Dog
review soon as well.
There are so many really great pale ales out there; consider these as well:
Troegs
Pale Ale
,
Stone
Pale Ale
,
Sierra Nevada
Pale Ale
and
Flying Fish
Extra Pale Ale
. If my memory serves me correctly,
Grim Reaper
makes a
Deathy Pale Ale
that lives up to its name, and
Union Barrel Works
(Reamstown, PA) may be the palest of all.
Laughing Dog
Pale Ale
:
Representation: .80
Accessibility: .85
Style: .80
Personal Preference: .85
Total: 3.30 Flags


*[Read a review of

Flying Dog's

Double Dog Double Pale Ale
]
*[Read a review
of

Stoudt's

American Pale Ale]