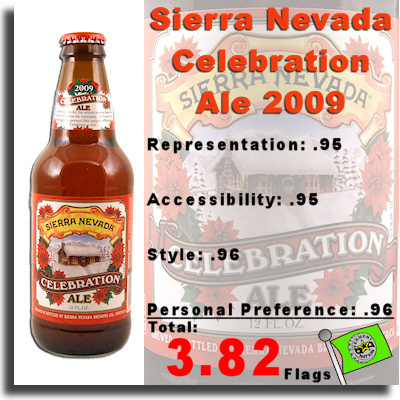 Sierra Nevada
Celebration Ale
2009:
This brew has a nice amber color and slightly fizzy mouthfeel. It's a celebration alright -- of hops. Earthy and bitter, not very floral ... like an IPA with some malty undertones but the malt flavor is buried deep beneath the herbal hoppy attack on the palate. The hops come on strong, then subside, then reappear for the aftertaste. Side note: A belchers delight, one glass of this brew can provide an uninterupted "Twelve Days of Christmas" if your breathing technique is slick enough.
Sierra Nevada
Celebration Ale
has a medium body and weighs in a 6.8% abv, providing a slightly warming sensation. I would definitely recommend pouring
Sierra
Celebration
into a glass or mug to let it open up a bit. It's a sippin' tea that has a sharpness to it; pretty rich and flavorful so don't rush it. It's multi-faceted but not too complicated-- and deserves to be enjoyed in good time.
Like
many holiday beers, this isn't a "brewski" that you slug down at a dive bar. Instead, set a dinner date with a hop lover, cook up some wurst and celebrate one sip at a time.
Unlike
many holiday beers, the hops (with a touch of malt) dominate the flavor while the traditional mulling spices and other Christmasy trimmings do not appear at all.
Sierra Nevada
Celebration Ale
2009:
Representation: .95
Accessibility: .95
Style: .96
Personal Preference: .96
Total Score: 3.82 Flags
Read our other
Sierra Nevada beer reviews