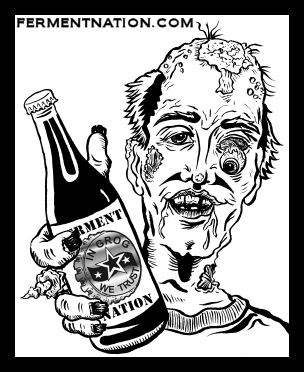 Ack! Zombies!
When you walk down
13
stairs underground after passing through some kind of plywood canopy on some side street in Silver Spring, MD, the last thing you want to see are a bunch of zombies shouting "Brains!" at you.
That is of course unless it is Halloween time!
Self-described as "Silver Spring's favorite dive for over 70 years",
The Quarry House Tavern
, is located on Georgia Avenue in Silver Spring, MD. A delegation from the Ferment Nation on a purely diplomatic mission entered the unassuming bar in the midst of some kind of Zombie Bar Crawl I suppose. Lots of make-up and rotting flesh. At least I hope that was make-up. We started off with a round of beers on tap: Ommegang Hennepin Farmhouse Saison (see the red arrow below). At 7.7% abv, that round of Belgian beers got the party started off right. We eased into some other beers by perusing their impressive beer menu.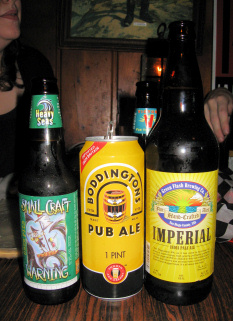 Some other highlights of the night were a hoppy "one-two punch" of
Victory's Hop Wallop
and
Green Flash's
Imperial IPA in a big bottle,
Smuttynose's Pumpkin
, Heavy Seas Small Craft Warning Uber Pils, Boddington's Pub Ale, PBR tallboys (yeah!), Pyramid's Audacious Apricot Ale, not to mention some shots of Tequila (I didn't ask what brand, but they cost $3.00 each, so I definitely should not ask now), Jack Daniel's, and Blonde-Headed Sluts.
Top those drinks off with a friendly wait staff and luscious, hot tater tots, and a good time was had by all. If you are not afraid to go subterranean in the D.C. suburbs, check out the Quarry House.