Hoppin' Frog
B.O.R.I.S. The Crusher Oatmeal Imperial Stout
:
"This is awesome."
--Reviewed by Mr. Buddy
Two points about the quality of this Citizen Review:
1. You know when a beer is awesome and when a beer is complete garbage. This reviewer had the beer reaction response of a jaguar. He tasted........POW!......he pounced. A word to all our citizens: trust your instincts.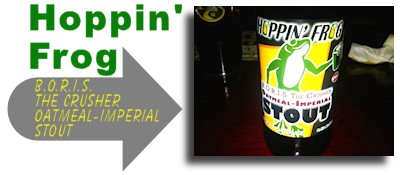 2. There is a serene balance produced by this review as the brevity of the content counterbalances the sheer weight of the oddly over-longish title of this beer.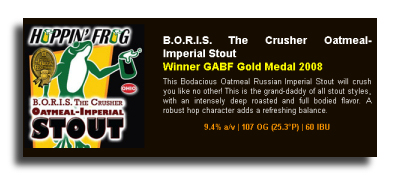 Check out some of the details of this beer as well as other brews by Hoppin' Frog.