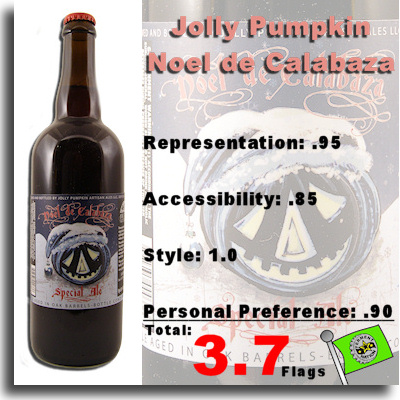 Jolly Pumpkin
Noel de Calabaza
Special Ale:
This holiday gem is an ale aged in oak barrels, bottled conditioned for richness and complexity. The oakey flavor is subtle -- works nicely with the Flemish sour-style tartness. The spicing is the interesting part here -- the medley of fruits and spices conjure up images of sitting by the fire and sipping this brew with both hands wrapped around the glass. It reminds me a little bit of mince pie: cloves and cinnamon mixed with plenty of sweet-tart fruites like raisins and cherries, cranberries, figs, and orange peels. It would be spiked, of course, with some warming alcohol essence like brandy. Yummy and a little pungent.
I also picture a mulled wine ... again, the spices warm and comfort the jolly drinker with a dessert-like brew. This ale pours a deep reddish-brown color with a tremendously thick, foamy head.
Jolly Pumpkin
Noel de Calabaza
is ultra rich and flavorful but overall remains a medium-bodied beer. Bottle-conditioning allows for continued growth and changes with the passage of time. Having already been barrel aged, the spices blend in with the brew in a most permanent way. But bottle-conditiong actually keeps the brew fermenting even while it waits to be drunk. The resulting mixture is spice-infused and richly complex. These are not ingredients flung together in a kettle and then sold to goobers who need their beer to be 30 degrees below zero to kill off any flavor that may be lurking at the bottom of the bottle! No, these are ingredients masterfully blended into a definite "sippin' tea." By the way, I think I just got a bite of ginger.
I would recommend this beer to Flemish Sour lovers (
Monk's Flemish Sour, Duchesse de Bourgogne
), fruit beer lovers (
Dogfish Head

Festina Peche and Raison D'Etre
), and lambic drinkers (
Lindeman's

Framboise or Kriek
).
I would not recommend
Noel de Calabaza
to anyone who thinks the beer might taste like pumpkin. It doesn't. It isn't very hoppy, though there is a certain dryness that is notable, especially in the finish. There is a nice malty base but the malt has neither the caramely brown taste like a doppelbock nor is it boozy like a Scotch ale.
Not for beginners,
Jolly Pumpkin
Noel de Calabaza
is so flamboyant that it could be off-putting. It would take a pretty sophisticated palate to truly understand and enjoy this brew. I think that the European sours are a little too much for El Presidente, but this Michigan beer tickles my tastebuds. Maybe this makes sense: a cross between a Scottish ale, a Flemish sour, and a Belgian lambic. Oh, by the way, pour this brew into a snifter... better yet, make it two snifters and share a bottle of holiday cheer with someone adventurous. At 9% abv, drinking a whole big bottle by oneself is a little tricky.
Jolly Pumpkin
Noel de Calabaza
Special Ale:
Representation: .95
Accessibility: .85
Style: 1.0
Personal Preference: .90
Total Score: 3.7 Flags