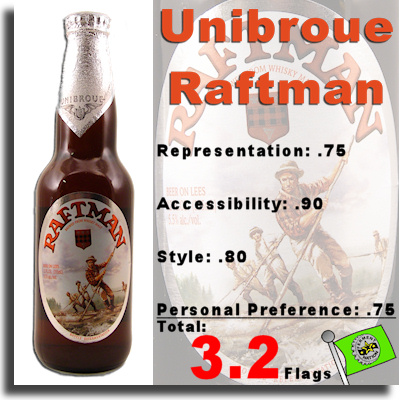 Unibroue
Raftman
:
Unibroue
has a distinct yeasty palate.
Raftman
is brewed from whiskey malt. Read the bottle and you will be promised smoky whiskey bouquet and lingering aftertaste. I'm finding that the body of
Raftman
is pretry darn big--a little too big for the extremely light flavor. Make no mistake--this brew does not have the whiskey kick that one gets from aging brew in whiskey barrels. Maybe the delicate flavors are just too subtle for my palate, but I don't taste a whole lot of anything. Upon first pouring this beer into a tulip glass, the head fizzed up a little bit like soda. After a few sips, there was enough room to fit the rest of the beer, including the yeast sediment at the bottom of the bottle.
The quality of the craftsmanship is quite evident in
Raftman
, but it doesn't suit me. If the beer is designed to be delicate and mellow, why make it so rich and yeasty? How about an amber ale in hand-pumped cask? Wouldn't the subtle flavors have a stronger voice? I like Unibroue's stuff. Their other stuff. This brew is a little unsatisfying, which is a shame because I was really looking forward to it. I knew it wasn't going to be too strong (a fairly mild 5.5% abv) but I was thinking a little less body and more whiskey pizazz.
Unibroue
Raftman
:
Representation: .75
Accessibility: .90
Style: .80
Personal Preference: .75
Total: 3.2 Flags