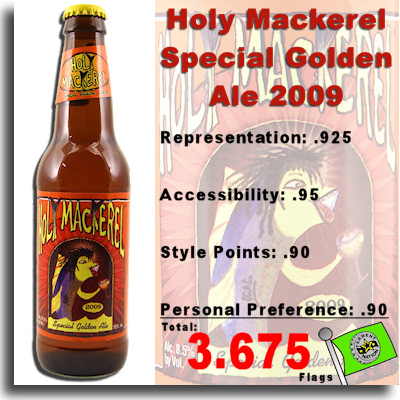 Holy Mackerel
Special Golden Ale 2009
:
Well, I jumped the gun a little by drinking this one right away. Our friends from Gordash suggest cellaring this Belgian style gem for 2-3 years. I have to admit that I'm a bit of a sucker for Golden Ales, and the Mack delivers a nice treat: a delicious Belgian style chill out beer. It's a bit like Golden Monkey Light--just a pinch drier and less boozy, weighing in at 8.5% abv as opposed to V.G.M.'s 9.5%. I'm actually a huge fan of
Victory's
Golden Monkey
and
Weyerbacher's
Merry Monks so to mention the Holy Mackerel in the same review is pretty high praise.
I would really recommend this beer to a non-beer-drinker--someone who "doesn't like beer" because it's bitter. This is just the opposite. You can bring this brew with you to a BYOB seafood place and drink it in place of white wine. Oh, and ladies usually have a more delicate palate but will love the mellow b-nanna-y flavors of this Golden Ale. I'm definitely going to grab a few more and put them away in my collection. 2-3 years from now I'll let you know how it goes.
Holy Mackerel
Special Golden Ale 2009
:
Representation: .925
Accessibility: .95
Style: .90
Personal Preference: .90
Total: 3.675 Flags