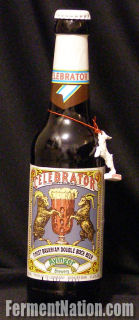 Ayinger
Celebrator
Dopplebock:
I've said it before and I'll say it again ... I'm a double bock kind of guy. Celebrator is a classic rendition of the style. The aroma is toffee-like and malty, but not overpowering. Quite inviting, as a matter of fact. The flavor has toffee notes as well as roasted malty goodness. The cool thing about dopple bocks is the wheaty undertones that wait until the finish to really come out to play.
Celebrator sounds like a party beer. Well, citizens, it should be just that. Not necessarily a rave-type party -- more like an anniversary dinner or a graduation. The festive nature of this dark and toasty (yet surprisingly crisp) brew is a good way to invite someone into the family of true beer lovers. So smooth in every way, and a reasonable 6.7% abv, Celebrator makes the perfect gift. And besides the celebratory nature of the beverage itself and the handsome label so lovingly illustrated, each bottle of Celebrator comes with a memento: a charm depicting the label's cover critter. See it for yourself.
P.S. I don't think I've ever seen a Celebrator without the goat charm. This attests to the class of Celebratorians as well as the respect it commands from others. Use this talisman to ward off foul taste. It seems to work for the folks at Ayinger.
Ayinger
Celebrator
Dopplebock:
Representation: .90
Accessability: .85
Style: .85
Personal Preference: .90
Total Score: 3.5 Flags