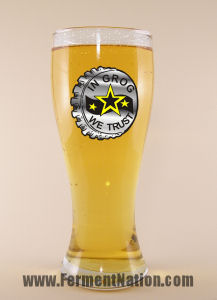 Yards ESA Cask:
One of the beers I had whilst at the Standard Tap was the
Yards
Extra Special Ale
--Cask Conditioned and hand-pumped. Holy Crap! This is the Nation's first perfect score. What I'm wondering is how did Yards find King Arthur's brewmaster? This ale is fit for the once and future king along with his band of valiant knights. Creamy and smooth but not flat! Drinkable? Ask not such an unworthy, nay, blasphemous question. This ESA is so drinkable that if it weren't for some watchful Round Table Knights, your loving president would have ended up wounded full sore and dumped in a moat. I think I even witnessed Excalibur being extracted from the stone.
This brew is the best I've yet tasted from Yards. But Yards has always ranked highly, and when the dust settles from some civil unrest, hopefully the nation will be strengthened with two wonderful Philadelphia brewers.
The taste of this beer is sublime. It's bold but not bonkers. A true winner. It's What I imagined "cream ale" to taste like when I heard of it as a kid but had not yet tasted beer. Dreamy. Go forth on a quest for this Holy ... well, you know.
Yards
ESA
Cask:
Representation: 1.0
Accessability: 1.0
Style: 1.0
Personal Preference: 1.0
Total Score: A perfect 4.0 Flags!