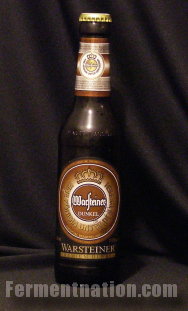 Warsteiner
Dunkel:
This beer is what we call a "gateway beer." Lure innocent victims to the Dark Side with this dunkel. Some stubborn scaredy-cats may shy away from the Dunkel. "But I don't like dark beer," they whine. Well quit being a pansy and try Warsteiner. It has a roasted malt flavor and a little bit of body -- it's a dark beer without extremes in any category. Leery beginners peer into the dark alley and the shady characters lurking there welcome them with open arms.
This brew is quite drinkable out of the bottle, but poured into a glass,
Warsteiner
Dunkel opens up a bit. It goes down smooth... perhaps too smooth. The taste is clean with a slight dryness to it. Brewed according to the German Purity Law of 1516 W.D. saunters in at a chill 4.8% abv so drink away.
Another bonus:
Warsteiner
Dunkel can be found at really reasonable prices (I paid $10.99 for a 12-pack). Its smoothness and drinkability give it a universal appeal, which makes it a no-brainer when you need to bring a lil' sumpn-sumpn to a party. Those partygoers who don't already like a decent dark beer are about to be welcomed into the family. The first one's on me. You gotta pay next time.
Warsteiner
Dunkel
:
Representation: .75
Accessability: 1.0
Style: .70
Personal Preference: .75
Total Score: 3.2 Flags