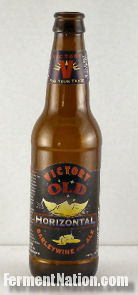 Victory
Old Horizontal Barleywine Style Ale
Oh my.
Victory
does so many things right.
Old Horizontal
is a unique variation of the Barleywine style. The aroma isn't very powerful, but the taste is an outright slap in the buds. This experience starts off mellow with a comfortable barleywine-type familiarity. But wait... Here come the hops! Crisp on the tongue and a little bitter at the end, this barleywine kicks like an IPA.
One of my favorite things about barleywine style ales is looking down into the glass right before sipping. Actually suspending time in mid-sip is even better. The brew caresses your mouth like a lake laps the shore, the sides of the glass are slick as a glacier, and the ultra-thin head swirls like a galaxy of stars in search of the birthplace of all creation.
Sorry, miles away.
Victory Old Horizontal takes the style in a slightly different direction. Beginners may like the label, but be warned: The flavors of this fermented beverage are not sleepy in the slightest. The drinker, however, may end up playing the title character if he or she tries to have more than one. 1o.5% abv will get you sideways in a hurry, especially since the alcohol is fairly well masked.
Victory
Old Horizontal Barleywine Style Ale
:
Representation: .75
Accessability: .70
Style: .85
Personal Preference: .80
Total Score: 3.1 Flags