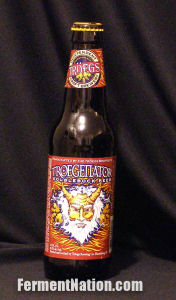 Tr
ö
egs
Troegenator
Double Bock:
There's only one way to begin reviewing Tröegs's beers: You gotta grab the elderly bearded gentleman by the horns. Wow! This double bock appears to me (although it's dark in here and I'm kind of colorblind) to be ruby red. Poured from bottle to glass, the clean and mellow taste of Troegenator won't let me put it down. There's a bit of dryness to Troegenator that other double bocks usually lack. There is less wheatiness in this Pennsylvania beer than its German counterparts, which changes up the scoring a bit. Just a tad dry with medium body, Troegenator is a smidge easier to drink than say, Celebrator. Style points may register a bit lower, however. The American signature is stamped on this, one of the Troegs brothers finest selections, but the old world spirit lives on in this seductive American craft brew.
But don't get too Troegenated: Look at that guy on the label. He's telling you, "Drink up, my friend. 8.2% abv isn't that much. And my satyr friends won't do anything to you when you pass out...honest."
The Cabinet and I went on a "Beercation" this past fall. On a whirlwind tour of the Beermuda Triangle, Tröegs was a magical step along the way. Troegenator was naturally one of the highlights. I suggest drinking it straight out of the horn. That's how I roll.
Tr
ö
egs
Troegenator
Double Bock
:
Representation: .85
Accessability: .90
Style: .80
Personal Preference: 1.0
Total Score: 3.55 Flags