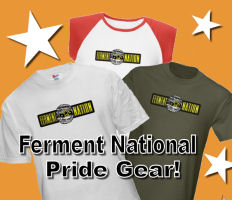 My Fellow Fermentarians,

There are many ways to show your love of great fermented beverages. One great way is to proudly wear gear from the vaults of FermentNation. Just click on the icon and choose from the array of t-shirts available from Cafe Press. Also keep your eyes open for new and exciting logo designs available on other cool gear.

Thank you for supporting the freedom of imbibery!

Your Loving President.