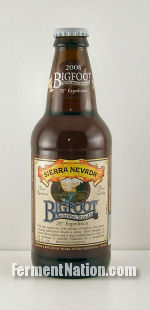 Sierra Nevada
Bigfoot
Barleywine Style Ale:
I knew Bigfoot existed ... I just couldn't prove it. Your commander-in-chief had been informed by his advisors that Bigfoot was prowling the unsettled territories of this FermentNation. I could hear the yell of this majestic man-beast but had never encountered him until now.
Finally face to face with Bigfoot I can say that it is the missing link between barleywine and beer. I had previously heard that this beast from the Sierra Nevada brewery was a bit on the mellow side, so I was prepared for something and got something else ... something better. The aroma is fruity and hoppy with an almost undetectable alcohol vapor. The flavor is bold and dry, smooth and spicy. Pour it just right and witness the head rise from the depths of your glass. Look out for the bitter finish lurking at the end of that trail you've been following.
Not the barleywine-est barleywine ever, but a bridge; so Representation points will seem a bit low. But everything else about this brew is a serious treat.
2008 marks the 25th expedition for Bigfoot. I finally found it in the store (only $9.99 for a six pack). Hopefully my personal quest will prove less elusive: To capture this natural wonder on tap. Keep in mind, though, at 9.6% abv the hunter could become the hunted if he nods off by the campfire.
Sierra Nevada
Bigfoot
Barleywine Style Ale:.
Representation: .80
Accessability: .85
Style: .90
Preference: .90
Total Score: 3.45 Flags



Looking back, I may have given Old Horizontal a bit of a short shrift. Comment if you demand a recount!