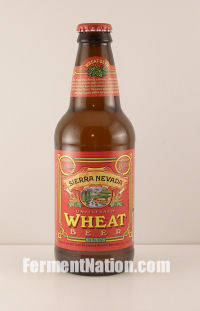 Sierra Nevada Wheat Beer:
Sierra Nevada is just one of those breweries. They're big enough to stand the test of time, day after day producing a consistent product. The name alone means quality. They are small enough and conscientious enough to take the utmost pride in their craft. Maintaining this level of quality can't be easy, and in my opinion they share some elite company -- Samuel Adams, Dogfish Head, Anchor, Oregon, and a few others. Some local breweries (see the Beermuda Triangle for geography) like Victory, Weyerbacher, and Troegs are well on their way.
So onto the Wheat Beer. This is a classic unfiltered wheat with a clean, American taste. The wheat and hops blend together in a pilsner-type way. It's not as crisp as a pilsner because of its unfiltered nature (go ahead and pour the sediment into the glass -- so says Sierra) but not as citrusy as a hefeweiss.
Not terribly stylish, but extremely drinkable. Sierra Wheat cruises in at a tame 4.2% abv and since it is unfiltered, the natural vitamins in the yeast and barley and hops can work with your body to deter a hangover. Yes, I said it. Now remember, this is not a free pass to overindulge but if that's your M.O. you could do way worse for yourself than Sierra Wheat. You can stand by this beer all night long and it won't let you down.
Sierra Nevada
Wheat Beer
:
Representation: .80
Accessability: .90
Style: .75
Personal Preference: .80
Total Score: 3.25 Flags