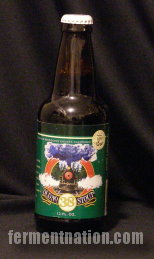 North Coast Old No. 38 Stout:
Roasty, toasty, coffee-liscious, Old No. 38 is a medium-bodied stout. I really never drink stout out of a bottle (unless I'm drinking THE stout, which can be drunk in any way, shape, or form), so I poured it into a pint glass. The aroma is fairly mild and the head starts off really pretty. Coffee is clearly present but not bitter. This stout is dry, especially in the finish. Clean and flavorful! Really nice stuff.
The label features a steam engine barreling toward the unsuspecting drinker. But a dastardly villain with a greasy handlebar mustache does NOT have you tied to the tracks. At a less than deadly 5.5% abv, Old No. 38 is extremely drinkable. Not over the top by any stretch. Accessability points boost up the score and wake up the overall mellowness of this California craft beer.
Some stout fiends love the extravagance of imperial stouts. Old No. 38 is the understated version for those of us who like to shovel coal on the fire for a steady journey across the Ferment Nation.
North Coast Old No. 38 Stout:
Representation: .85
Accessability: .90
Style: .70
Personal Preference: .80
Total Score: 3.25 Flags